About Delhi ICDs
ICD Tuglakabad
ICD Patparganj
ICD Ballabhgarh ICD Gari Harsaru FPO Delhi
Importing from ICDs
Locate container status Documentation
Where to file
Appraisement Stages Appraisement in Action Examination Process
Exporting from ICD
Documentation
Where to file
Export Processing
Examination Process

Transfer of Residence
Know the Rules
Where to file
Examination Process
Services
Tele-enquiry
Your Container Status
Why Honesty is the best Policy
Budget 2002

Notifications/Circulars 2002
Public Notices 2002

Know the Organization
Miscellaneous
Grievance Redressal Guest Book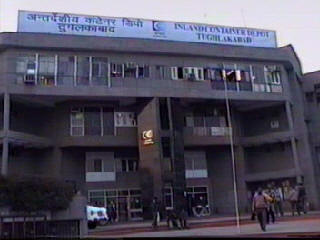 BRIEF HISTORY OF CONTAINERIZED CARGO AT ICD DELHI
When in late 70's and early 80's, the concept of "containerised cargo" and "delivery at doorstep" started getting popular the world over, a need was felt to set up an Inland Container Depot to cater to the needs of trade and industry of the Northern part of India. With this background in mind and with a view to bringing the facilities of transportation and Customs clearance of import and export cargo at the doorstep of importers and exporters, an Inland Container Depot was set up at Pragati Maidan in 1983 under the control of an Assistant Collector of Customs. Indian Railways were nominated the custodian of the goods. In 1984, a Container Freight Station (CFS) was also opened at Patparganj which was an extension of ICD, Pragati Maidan and Central Warehousing Corporation was nominated as its custodian. This was a new experience for the trade and industry of North India and the institution of ICDs caught their imagination. Soon, the importers/exporters who earlier used to clear their goods from one of the ports, started using ICD: Pragati Maidan and CFS : Patparganj for the clearance of their import and export goods. In 1988, a public sector enterprise, M/s. Container Corporation of India Ltd. (CONCOR) was set up which took over the responsibilities of custodian from Indian Railways for ICD: Pragati Maidan. Within a decade of its inception, the volume of work at ICD had increased to such an extent that it became difficult to handle it at Pragati Maidan. It was then decided (in 1983) to shift the venue of ICD from Pragati Maidan to its present location i.e. at Tughlakabad. In 1995, the CFS : Patparganj was upgraded to a full fledged ICD with C.W.C. continuing as custodian of the goods. Movement of containers by road was also permitted in addition to the movement of containers by rail through Tughlakabad.
ICD : Tughlakabad (TKD) caters to the need of importers and exporters based in Northern India. It is situated near Okhla Industrial Area and is spread over 44 hectares of land. It has three storied Administrative block housing Offices of Customs, CONCOR, Bank, Shipping Lines, CHAs and Surveyors. Four full length rail lines are available in the Customs area which bring the containers by train from Gateway ports such as Mumbai, Nhava Sheva, Chennai, besides bringing the containers by road from other ports such as Haldia, Calcutta and Kandla, etc. ICD:TKD is equipped with most modern facilities such as rail mounted gantry of 40 metric empty lifting capacity, rubber tire diesel powered cranes, billoties and lift trucks, etc. two covered sheds, one for import and another for export with a total area of 16,000 sq. mts. has been provided in the Customs area for stuffing and de-stuffing of import and export goods. With these ultra-modern facilities, ICD:TKD, New Delhi, has developed into the largest hub of multi-modal centre in the Indian sub-continent. Containers meant for ICDs: Patparganj, Faridabad and Gari Harsaru are first brought at TKD by rail and then transported to their respective destinations.
Almost all commodities are being imported through ICD, major items being machinery, electronic goods, plastic, chemicals, motor vehicles and parts and metal and metal scrap. On export side major items being exported through ICD are leather garments and leather products, readymade garments, machinery, agricultural products especially rice.